Home office - a new reality
Remote work brought many opportunities, especially in terms of increasing efficiency of employees. According to the World Economic Forum Survey, 98% of people want to have a possibility to work remotely, and 82% of employers plan to permit home office even after the pandemic. This is why we definitely should not treat remote work as a temporary trend, but a permanent new approach.
However, the new situation brought new challenges to IT managers. Architects and developers needed to develop solutions to provide users with technology supporting them in their new daily routine. In the pandemic and post-pandemic world, people need quick, safe and reliable solutions. One of them is Desktop Virtualization which is already transforming businesses around the globe.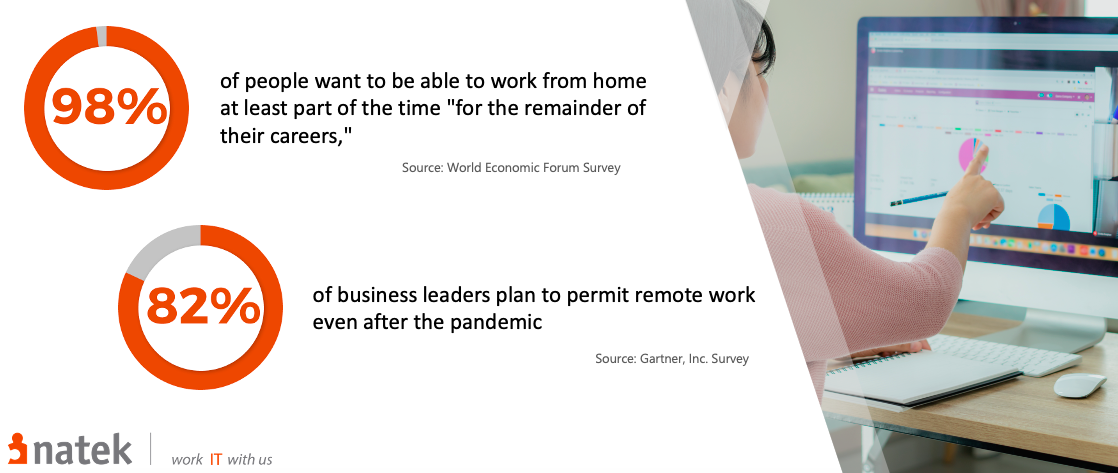 3 Types of Desktop Virtualization
To put it simply, virtualization is decoupling the OS from hardware such as CPU, storage, memory and others. This means creating a virtual hardware on top of existing, physical one. Such a solution increases efficiency, utilization and cooperation, and seems to be a mandatory in the era of remote working.
There are a few basic types of desktop virtualization. Let's catch a glimpse of their features, pros and cons.
Virtual Desktop Infrastructure (VDI)
VDI technology is perfectly scalable and responsive, and all in all easy to use. However, it has some disadvantages that make IT managers reluctant to implement this solution. Using VDI requires purchasing hardware. Moreover, its maintenance, licensing and deployment must be handled in-house. This requires the support of qualified engineers having excellent understanding of limitations and potentials, which might be a serious obstacle.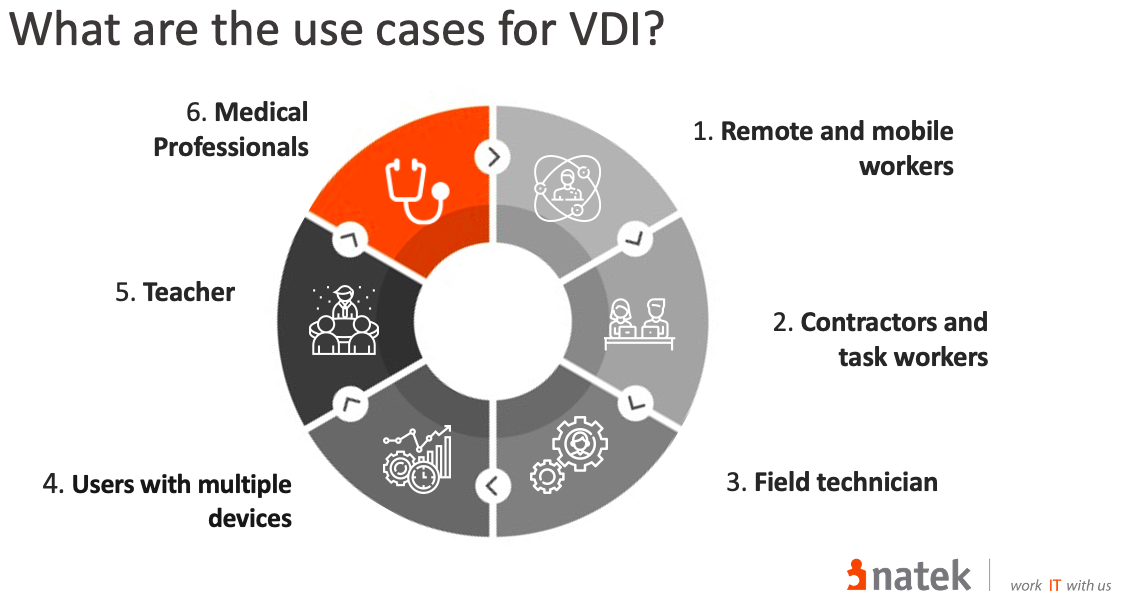 Remote Desktop Software (RDS)
RDS is a technology that has been known for decades. It certainly has less requirements than VDI solution, as the software is supported by vendors. Within this solution resources are provisioned and dedicated per user, and the whole tool can be freely customized. They are usually fast and responsive. However, as in VDI, everything must be managed in-house. Moreover, many virtual machines are required to support the user base, which creates a large upfront cost.
Desktop as a Service (DaaS)
DaaS is a fully customizable and easy to implement solution. Its main advantage is that it's the vendor who keeps the software updated and is in charge of handling licenses, technical stuff and compliance. For the company it means lowered maintenance costs and no requirements for highly qualified architects. Moreover, DaaS can be accessible from any PC and is a secure and pay-for-use solution.
One of the top DaaS providers is Citrix, which can provide virtualization of applications and desktops, both for WIndows and Linux. Moreover, it provides a wide configuration options and a great user experience at a very affordable price.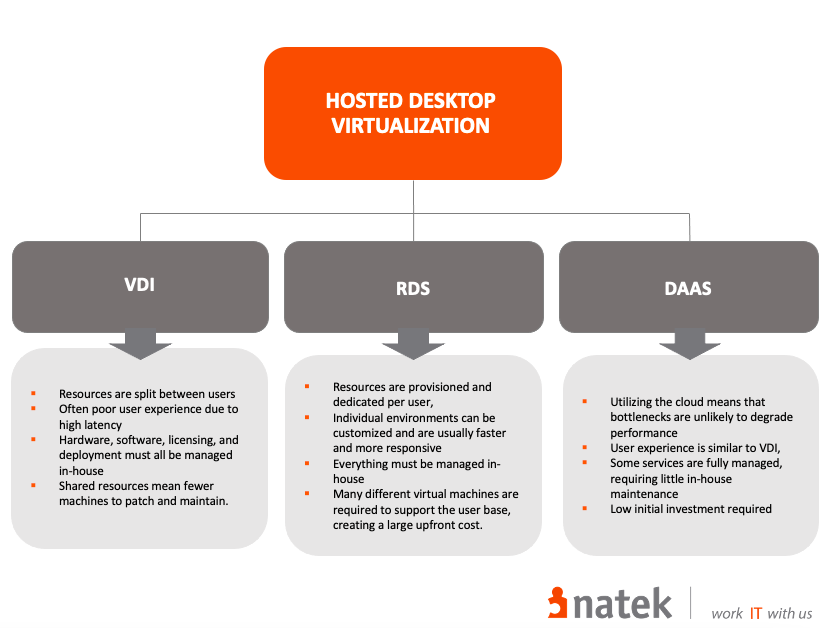 Virtualization challenges - which solution to choose?
How to choose the right virtualization tool? Remember that it must:
be simple and agile
fit in to your budget
be supported with front-end and back-end alignment
be integrated with other systems of yours
prepared for handling network traffic
compliant with ISO standards
manageable by your internal or external IT team.


Benefits of Desktop Virtualization
Although virtualization might be challenging, it provides companies with a number of benefits. The main ones are:
cost optimization
easy management
resource efficiency
fast provisioning
reduced downtime
accelerated deployments
customized user experience.
Virtualization is already used in IT, medicine, education and many more areas. This is why you should consider using it, regardless of your industry.
If you would like support in choosing an effective solution to take advantage of the benefits of virtualization for your business - NATEK will be a great solution! NATEK's over 15 years-long experience in designing and implementing IT business services for the biggest international companies enables them to provide technical expertise, flexibility across technologies and service consistency for your organization. Contact them to discuss tailor-made solutions that will match your project needs!