What are your daily challenges as IT Manager?
I lead the IT department at Gemini Polska. We mainly focus on inventing and delivering technology solutions that enable our pharmacist to take care better the patients in pharmacy stores and provide pharmacy products and services online.
What are the biggest challenges you have faced at work?
The biggest challenge is to create solutions that address patient needs which are changing very quickly in a digital age and at the same time be very strict regarding security and compliance with regulations. We have the ambition to be a leader in the market so we need to act boldly and quickly – this kind of strategy puts a lot of pressure on IT.

What has changed in your work in 2020?
The year 2020 hasn't changed our IT strategy we have defined a year earlier drastically, but for sure it reinforced to us, that our thinking regarding our main pillars which are professional pharmacare and digital technologies is right. However, it turned out that we need to accelerate with this strategy as many new players entered this market during the COVID-19 pandemic.
What kind of IT Manager are you? People Leader, Tech Leader, or Business Leader?
I try to keep the right balance between all those styles. Nowadays IT become very critical and complex at the same time, which means that IT leaders also need to be very flexible and understand the big picture.
Who is the IT Manager of Tomorrow for you?
IT manager of tomorrow is not a pure tech person anymore (which doesn't mean he/she doesn't have to be very tech-savvy). IT manager has to work even more closely with the business as more and more business processes are relying on IT and customers expect more services and products to be available online.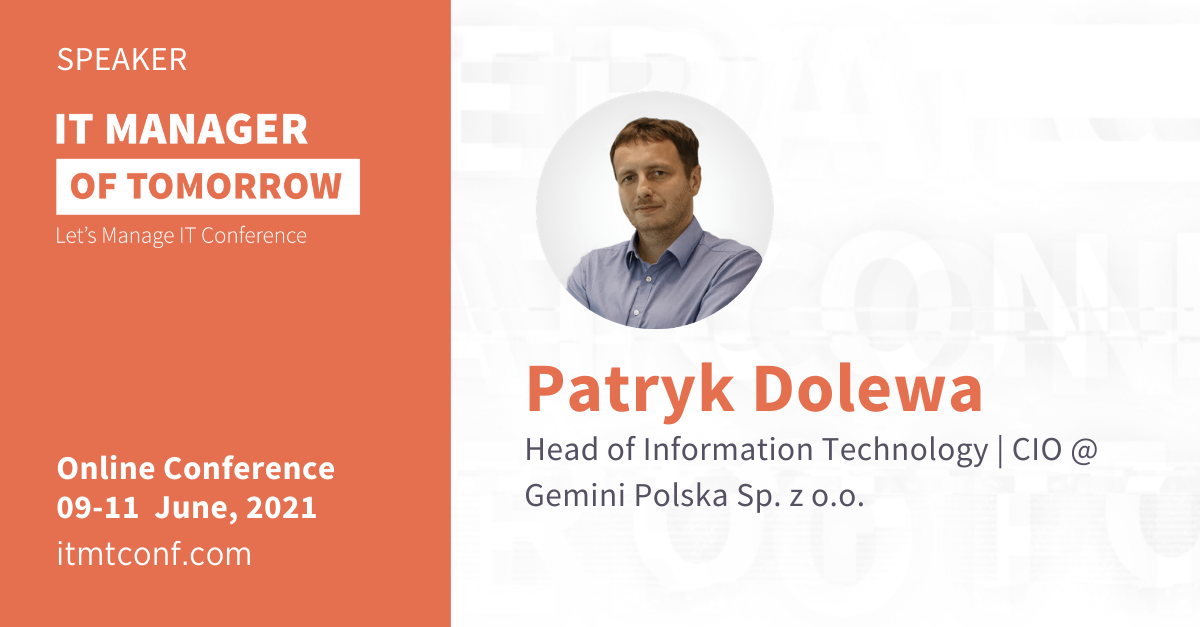 What is the most important thing an IT manager does?
A good IT manager is a true partner for the business leaders in creating a compelling value proposition for the customers. It's not just about fulfilling business requirements with the technology – it's about inspiring and showing what technology can do today and how it can be applied in new business models.
What are topics in business management are close to you?
I am very interested in healthcare and introducing new innovative products and services in the market and that's why I like working for Gemini so much.
Topics to talk about with you at the conference:
I think that we can have a very interesting conversation on topics such as e-healthcare, digital pharmacare, composable commerce, and cloud strategy.
One interesting fact about you that we do not know yet:
I am rather an open person so there are not that many mysteries about myself. What I really like to do in my free time is to explore the world (both the close neighborhood and far countries) and get to know as much as possible about the culture and history of the places.
Using professional video and collaboration platforms, all lectures and workshops will be broadcast live. You will also get in touch with our speakers, attendees, and expo partners. You will have access to conference content not only during the conference but all year round. Click the button below and book your ticket now!